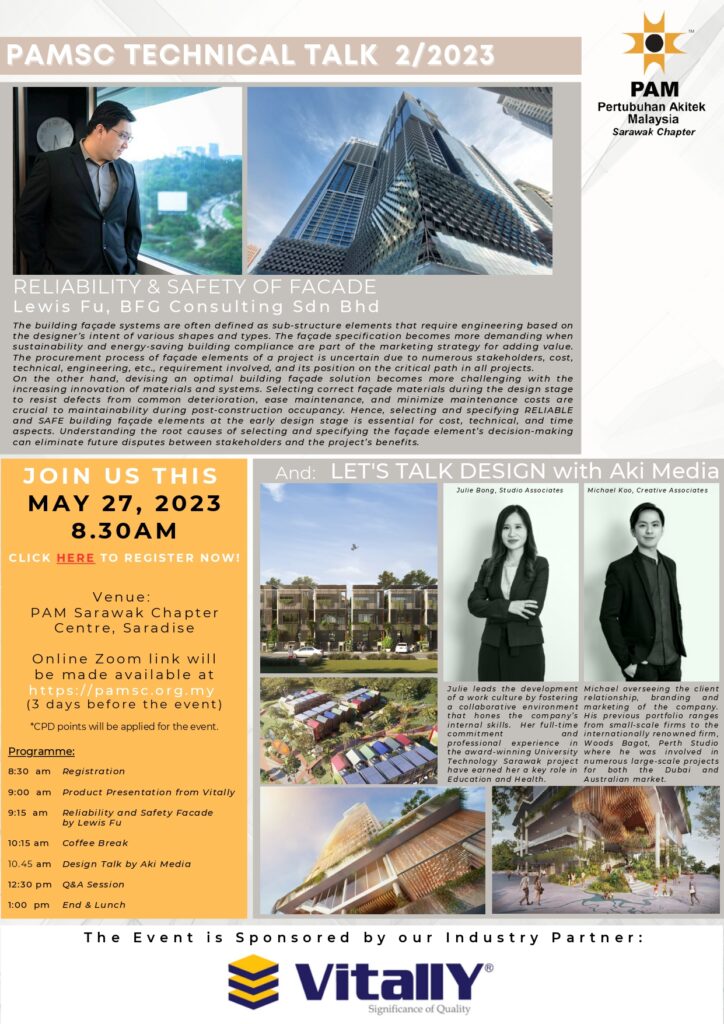 Reliability and Safety of Facade & Let's Talk Design is going to be held on:
Date: 27 May 2023 (Saturday)
Time: 8.30am – 1.00pm
Venue: PAMSC, Saradise & Zoom Webinar (Hybrid)
CLICK HERE TO REGISTER (PHYSICAL ATTENDANCE)
Please click HERE to join the ZOOM WEBINAR event directly
Please click HERE to download the flyer 
Conditions: 
DIRECT ENTER TO THE ZOOM WEBINAR
Step 1: The Webinar Link will be posted on the PAMSC Website.
Step 2: Click on the link to join the event on an actual day.
Step 3: A Sign In and Sign Out will pop up during the event.
Step 4: Copy the codes down.
Step 5: A QR Code and Questionnaire Form will be shared at the end of the event.
Step 6: Scan the QR Code on the closing slide or Clickable Link in the chatbox which will direct you to the Questionnaire Form. Click Submit for eligibility for LAM CPD Points.
PLEASE READ AND NOTE THAT:
a. The questionnaire form is accessible for 30 Minutes Only after each webinar.
b. Late Submission, Latecomer,and Incomplete Form shall not be entertained.